It was a couple of years ago, I think, that I stumbled on Ann's blog. (Forever changed, that's for sure) I set out right away to make a Gratitude Journal. I did 'okay' with keeping up with it.
To be honest, I struggle to stay thankful in all things. I can be disciplined in many areas, but this one eludes me. I will not give up. That is why Thankfulness is something that will be relentlessly pursued, this year, Lord willing.
You see, I believe this principle, being thankful in all things . . . naming your 'gifts' . . . seeing Him in every. moment.of.your.life . . . slowing to be present and rejoice in the moment . . . I believe this to be absolutely vital to my victory in this life, maybe yours too?
So, I join the community, the accountability to post online some of the things I am thankful for each week.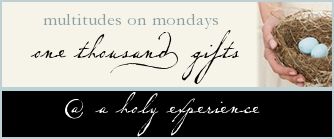 Discovering Doctrine

together as a family

(I recommend the eBook, as you will want the ability to just print up the amount of pages you need vs. making copies)

wonderful Saturday working side by side with the man I love with joy ALL day

little girls with mama hearts

sick little boy and his sad baby blues

frozen pond=happy children
traditional meals every week; Saturday:

burger night, Sunday: Roast Chicken

schedules, lists, goals, planning

corporate prayer and fasting

can't get enough of "I wuv you Mimi'" and " I miss you Mimi"

(I love you, Levi!)