Okay, so the daughter of a
woman I adore
and respect is having a blog party and I simply cannot resist. It is sunny and warmer (40 degrees, only in MI is 40 degrees warm LOL) and I want to have some fun. Care to join me? Just follow Abigails button and you will find out all you need. Abigail is an awesome, talented young lady. She custom designs blogs, and they are beautiful! Check her out!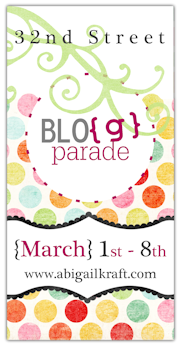 1. What's your favorite time of the day, and why?

MORNING! Yes, I love the morning, when it is still quiet and dark. I grab my tea and my bible and soak up time with the Lord! Truly the best time of the day! Or maybe 5:30, my beloved comes home.
2. If health wasn't an issue, what food could you live off of?
Oreos dunked in milk, whole, so your whole mouth oozes with mushy Oeros. AND Doritos and the canned Jalapeno Cheese Dip! A girl can dream, right?
3. If you could have one wish granted (besides wishing for more wishes), what would it be?
To feel all better! ;-(
4. What's one thing that you get teased about a lot?

My passionate personality.
5. If you could choose one movie, book, or TV show to spend your life in, which would you pick? What type of character would you be?
Steel Magnolias comes to the top of my head. I think I would like to be Truvy, played by Dolly Parton, no, not for the obvious reasons! I loved her character, I love to 'do hair' and she does have a tiny waist. (too vain for you? sorry)
6. If you could have one talent that you don't already have, what would it be?
SINGING!!!
7.If money were no object, where would you go on vacation?
Italy with my beloved! (you are not giving trips away, are you???)
8. If you were an awesome singer, which genre would you sing?

See # 6, I am so not! After I was done sitting at my piano worshipping the Lord for hours with my exceptionally beautiful voice I would probably belt out a country love song.
9. If you could have a $10,000 shopping spree to one store, what would it be?

Some wonderful furniture store or an antique store.
10. If you could live in any point in time, when would it be?
Little House on the Prairie days! Wait, they did have blogs back then, right?
11. If every outfit in your wardrobe had to be one color, what would it be?
Black, I don't think I would get sick of it.
12. If you were one of the seven dwarves, which one would you be?
(Doc, Grumpy, Sneezy, Sleepy, Bashful, Happy, or Dopey)
Sleepy, right now, due to Adrenal Fatigue. Happy, if I am going by what I think I used to be like before I got sick. Dopey, often times, especially while trying to get a joke. Bashful, in a crowd of new people. Sleepy, right now, did I say that already? Grumpy, when I don't get my way and/or PMSing. Doc, is what I like to think I am when it comes to solving health problems.
13. What's the last album you listened to?
I don't think I really listen to music that often, hmmm, must be a Selah CD.
14. What's something we'd be surprised to know about you?
I don't wash my feet. ;-)